About the SMACCMPilot Project

SMACCMPilot is a project by Galois, Inc.
The SMACCMPilot team is:
Alumni are:
John Launchbury
James Bielman
Georges-Axel Jaloyan
License
The SMACCMPilot project software is released under an open-source BSD License. See License files in the source repositories for more information.
Mailing List
We have a mailing list for corresponding with developers and researchers interested in the SMACCMPilot project. Please subscribe or view the archives.
About the name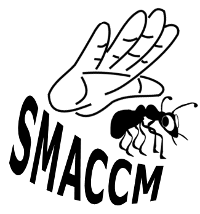 SMACCMPilot is developed as part of the Secure Mathematically-Assured Composition of Control Models (SMACCM) research project led by Rockwell Collins, under DARPA's High-Assurance Cyber Military Systems (HACMS) program.
About this site
The contents of smaccmpilot.org are Copyright 2017, Galois Inc. All Rights Reserved.